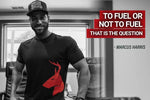 Marcus Harris
RDN, L/DN OCB Professional Men's Physique Athlete Exercise Specialist
There are many debates about the benefits of fueling before exercise or working out while fasting. People who support fasted workouts believe that exercising on an empty stomach will burn fat quicker during the session. While this phenomenon is supported by science the theory has its flaws when considering "burning fat" vs "losing fat".
Burning fat is something humans do while sleeping and in times when we are not engaged in direct physical activity. Yes, if your energy storages are empty (low glycogen in muscles and liver) your body does switch over to burning fat, but only for that moment. Losing fat however requires a consistent calorie deficit over a significant period.
Fueling workouts allow people to have more energy throughout the exercise, feel stronger, perform better, and reduce the risk of injury. Fasted workouts on the other hand have the opposite effect. Fueling with high- quality carbohydrates yields the best form of usable energy. Liquid carbs are absorbed the fastest and are better when consumed within 30-60 minutes of activity. Having a cup of oatmeal just before could potentially end up on the ground if not consumed at least 2 hours prior to exercise.
Liquid carbs in the form of starch are better than simple sugars for those wanting to avoid digestive complications and sugar crashes. Pro/Carb is optimal because it provides the benefits one would get from eating the likes of a bowl of oatmeal without the burden of feeling overly full. This pre-workout supplement consists of sweet potato, tapioca root, and arrowroot along with citrulline-malate and arginine. The latter combine to form nitric oxide, which helps with blood flow by dilating the blood vessels and maximizes the body's ability to utilize oxygen. Fueling before workouts allows active people to maximize their performance and burn the most calories without the worries of sacrificing fat loss. Understanding that fat loss is achieved when we are sleeping can help kick the obsession with burning fat for a moment in time.