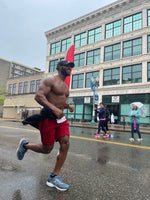 So, can you do large amounts of cardio and grow muscle at the same time? There are many who believe that running will kill strength and muscle gains. However, I have experienced that by leveraging nutrition and maximizing recovery you can successfully grow muscle and train for long-distance running at the same time. The most important factors in muscle growth are calorie surplus and consuming enough protein. For starters, a surplus of 200-400 calories along with 1 gram of protein per pound of body weight is a promising way to ensure growth. While training for my first marathon my total energy expenditure was around 3400 calories per day, therefore I consumed at least 3600 calories to support muscle growth and achieve peak performance.
 As training volume increases so does the need for recovery. Training 40-plus hours per week on the pavement along with weight training required a great deal of recovery. Since sleep is where all the recovery and repair happens, I aimed for 7-9 hours of shut-eye per day to ensure optimum recovery and peak performance. Building muscle is all about calorie surplus, high protein with adequate carbs and fat. However, marathon training is all about endurance nutrition where the focus is on energy balance, high carbs with adequate protein and fat. No matter what the goal is, focusing on recovery nutrition is paramount. Recovery nutrition means having a well-balanced food plan focused on whole foods, assorted fruits, and veggies with minimal junk foods.
 If the goal is to build muscle and train with high amounts of cardio, then macros are huge. My macro breakdown most days was 225 grams of protein, 400 grams of carbohydrates, and 125 grams of fat, totaling 3,625 calories. This breakdown meets the protein and calorie requirements for building muscle while covering the energy expended during cardio training. Studies support that you cannot achieve both peak performance and become shredded at the same time for several reasons. For one, it takes a significant calorie deficit of at least 400-1000 calories per day to achieve a significant fat loss of 2-8 pounds in a month. As calories decrease, so does your performance. Studies have shown that weight loss can be broken down at a ratio of 75% fat and 25% lean body mass at best. Therefore, it is highly unlikely to maximize muscle growth and maximize fat loss simultaneously. Consuming enough carbs will give you energy so nutrient timing is key for training in a calorie deficit. If you are cutting, then you most likely are sacrificing some strength and size. However, you could use food, especially carbs to the best of your ability by consuming them before and after your workouts. Protein is also the best post-workout along with carbs to maximize recovery windows.
In the grand scheme if you are strictly looking for peak performance then make sure that you balance your calories to meet your energy demands. If you are looking to grow muscle, aim to consume a surplus of 200 calories per day. If you are looking to cut weight and maintain muscle mass, stick to a slight calorie deficit of 200-250 calories rather than an aggressive approach, of a 500+ calorie deficit. Unless you are on anabolic steroids or pharmaceutical cutting agents, which I do not recommend, it would be unrealistic to attempt to significantly gain muscle and decrease fat simultaneously. If the goal is to train for long-distance running and grow muscle, then it is possible if you have proper recovery, calorie intake, and protein. Running only kills muscle gains when the latter isn't well executed.
Marcus Harris, Registered Dietitian, Pro Bodybuilder and Marathoner